Events GS EAM
Upcoming Events
GS EAM Get Together (Summer 2023)
More information coming soon.
Past Events
DIPHER 2022 – Diversity in physics for the diversity of physics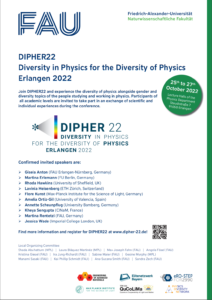 DIPHER 2022 is organized by the Physics Department of the FAU, the  Physics Diversity Network PHYDINE and the Max-Planck-Institute for the Science of Light (MPI). Further contributors are the TRR QuCoLiMa (Quantum Cooperativity of Light and Matter), the former Cluster of Excellence Engineering of Advanced Materials, the Forschungsgruppe eRO-Step and the Elite Graduate Programme Physics Advanced. All GS EAM members can attend the conference free of charge!
For more information, please visit the website.
Workshop: "Strategies to handle your stage fright"
Philipp Gründel, the owner of BÜHNENREIF will give a 2 day workshop in which you will learn strategies how to handle your stage frigt and use it in a positive way. Here, you will find the Program of the workshop. 
These are some quotes from our participants:
"This workshop was an enlightening experience and will surely help me throughout my career."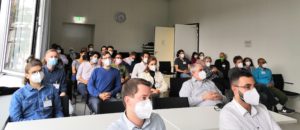 Thank you for your participation in our Poster Event and Get-Together. We had a wonderful, interesting evening with fruitful discussions and great networking opportunities. After a warm welcome, Prof. Dr. Janina Maultzsch introduced the new Graduate School "Engineering of Advanced Materials" (GS EAM) and then our associated Research Training Groups (FRASCAL, ParSciTech, CLINT, Energy Conversion Systems and GSMS) were presented either by their speaker or by doctoral candidates. After this part, doctoral candidates shared their research by presenting posters and discussing ideas. We ended the evening enjoying refreshments and conversing about future collaborations and cooperations.
IUPAC Global Women Breakfast

The International Union of Pure and Applied Science has lunched since a couple of years the Global Women Breakfast initiative under the motto: "Empowering Diversity in Science". You can find more information at the following link:
https://iupac.org/gwb/information/
In the framework of the gender activities underpinning our Collaborative Research Centres, we will participate to the IUPAC Breakfast 2022 and take this chance to have a chat with Prof. Sara Skrabalak from Indiana University.
You can find some information about her carrier, achievements and research interests at the following link:
http://www.chem.indiana.edu/faculty/sara-e-skrabalak/
The appointment is for February 16th at 2 pm CET (8 am in Indiana), for around 1 hour. After a short description of her carrier path, Sara will be available to answer our questions.