Inauguration of new main headquarters of Helmholtz Institute in Erlangen
Sustainable and inexpensive ways to convert and store energy
Almost exactly four years lie between the ground-breaking ceremony and the official inauguration: the new research building of the Helmholtz Institute Erlangen-Nürnberg for Renewable Energy (HI ERN) is the latest address for cutting-edge research in Erlangen. The Free State of Bavaria has invested roughly 35.5 million euros in the new headquarters of the Institute in recognition of the fact that research into sustainable energy technology is indispensable for the future and affects us all.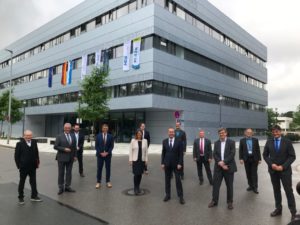 Approximately 115 scientists will carry out their research in the new building, dedicated to finding climate-friendly, sustainable and inexpensive ways of providing future generations with power. HI ERN, a collaboration between Forschungszentrum Jülich, the Helmholtz Zentrum Berlin (HZB) and Friedrich-Alexander-Universität Erlangen-Nürnberg (FAU), was launched in 2013. The aim of the collaboration is to closely coordinate the excellent work of the various partner institutions in the fields of material, energy and process research. This approach is now reflected in the newly inaugurated building: the physics and chemistry labs in the upper floors have deliberately been arranged to create large, connected areas to encourage interdisciplinary research.
The Institute will focus predominantly on research into how electrochemical energy conversion can be used to design innovative new technology based on hydrogen and solar power. Chemical engineers, chemists, physicists, nano technicians and materials scientists are all working together to find new, improved solutions in this field. There is no need to look far for proof of their success: Last year, HI ERN successfully raised approximately 13.8 million euros in third-party funding, more than ever before in its relatively short history. A total of 122 publications from 2020, including a great many in reputable journals such as Nature, has raised awareness of the Institute in the scientific community in Germany and abroad. But that is not all: HI ERN benefits from the expertise of more than 150 scientists and roughly 25 students, and a total of 13 research teams distributed over seven professorships have been established to date. This immense success is also the reason why although the newly inaugurated building will be the headquarters of HI ERN in future, the other locations in Erlangen and Nuremberg will be retained. The topic of renewable energy is of utmost importance and their capacities are still needed.
Further plans for the future of HI ERN are already in the pipeline. The research that has been carried out to date on electrocatalysis and electrochemical process technology is to become even more closely linked to chemical reaction engineering. Coupling electrolysis and fuel cells with procedures for chemical energy storage and producing reusable chemical materials is an exciting approach which promises new, economically highly attractive value chains.
A second focus area will concentrate on bringing the areas of photovoltaics and hydrogen technology even closer together over the coming years. For example, artificial intelligence can help identify better materials for photovoltaic systems. Following on from their success as the world leader in optimising electrocatalysts using high throughput testing methods, researchers at HI ERN hope to use these methods to increase the speed of development and improve system efficiency.
Further work is planned on strengthening existing activities in the field of material characterisation. Modern X-ray spectroscopy methods allow researchers to gain a better understanding of the processes that take place in materials used in fuel cells, solar cells or batteries. As well as experimental research, HI ERN will also place considerable emphasis on modelling and simulation. The theoretical prediction of film forming processes is highly relevant both for designing manufacturing processes for thin film solar cells and for optimising production of membrane-electron units.
Reactions to the inauguration
'There couldn't be a more fitting birthday present. The new research building is to open its doors just in time for the 200th birthday of the scholar Hermann von Helmholtz. Cutting-edge architecture for cutting-edge research. The sustainable building offers optimal working conditions and high-quality workplaces. Ivory tower research belongs to the past. Flexible laboratory zones, the interior design and the green courtyard all encourage interdisciplinary research and promote communication between the scientists and researchers who will work here. An overriding sense of wellbeing creates a great atmosphere for research into sustainable energy technology. The close proximity to the university also encourages research into and development of renewable energy systems. Bavaria is an outstanding global location for innovation and technology, as is underlined once more by these new research facilities. For Erlangen and Bavaria, this building is a technological business card for the future, strengthening its reputation in Germany and abroad,' emphasises the Bavarian Minister of Economic Affairs, Hubert Aiwanger.
'Helmholtz Institutes bolster the strategic partnerships between Helmholtz Centres and universities. HI ERN and its new research building form the foundation for a long-lasting and close collaboration between Forschungszentrum Jülich, Friedrich-Alexander-Universität Erlangen-Nürnberg and Helmholtz Zentrum Berlin. Founding the Institute was the ideal way to combine the partners' expertise and pave the way for outstanding research in the area of renewable energy and research into energy materials. It was hoped that founding a Helmholtz Institute on the University's campus would lead to it becoming a well connected and internationally highly visible research centre. I think we can safely say that HI ERN has well and truly met these expectations,' says Prof. Dr. Frauke Melchior, member of the board of Forschungszentrum Jülich.
'The new building in Erlangen is an important think-tank for the future: Scientists from a wide range of different disciplines will work together to find solutions to tomorrow's energy supply challenges. The tremendous international success of the new Institute underlines the success of the creative approaches pursued by the various teams. They consistently focus on innovative technology, making HI ERN an attractive partner for industry,' explains Prof. Dr. Otmar D. Wiestler, President of the Helmholtz Association.
'HI ERN has demonstrated the potential which can be unlocked when top scientists from various disciplines like chemistry, physics, materials science or nanotechnology come together to conduct research. The new building will give HI ERN exactly the premises it needs to pursue this approach, embedded in the research environment at Erlangen and Nuremberg which serves as a platform for creative ideas. These are the ideas we need to shape the energy supplies of tomorrow,' explains Prof. Dr. Joachim Hornegger, FAU President.
'The HI ERN research building gives our young, motivated Institute the long-awaited roof under which we can drive forward our collaborative interdisciplinary energy research. Together with our colleagues from FZJ, HZB and FAU, we are ready to face the major challenges posed by the transition to renewable energy. After today, we will have considerably more options for making a significant contribution to developing sustainable and climate-friendly energy and mobility technology,' explains Prof. Dr. Karl Mayrhofer, director of HI ERN.
'As soon as you step foot inside HI ERN you can feel the importance of the garden with the large elm tree in the courtyard, visible from all sides. As a 'green lung' it demonstrates the process of natural photosynthesis, whilst the scientists inside the HI ERN building carry out their research into renewable energy sources to support the transition to new forms of energy. Its technoid facade, with a detailed surface structure designed to suggest nanostructures magnified under a microscope, symbolises the complexity of laboratory research conducted within the building and underlines HI ERN's open-minded approach to research in a complex research environment,' says Prof. Eckhard Gerber, founder and owner of the architect's office Gerber Architekten.
Facts about the new building
February 2018 – Construction work begins

Financing: The Free State of Bavaria provides total funding of 35.5 million euros for the project. This covers the new building, infrastructure, equipment and major instrumentatio

n.
Partners
Forschungszentrum Jülich

Helmholtz-Zentrum Berlin

Friedrich-Alexander-Universität Erlangen-Nürnberg
Further information
Prof. Dr. Karl Mayrhofer
HI ERN