Fundamental research on interfaces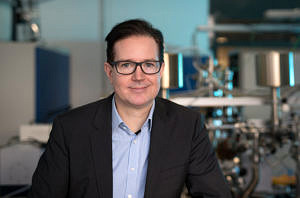 Special culture of cooperation
EAM Member Prof. Dr. Jörg Libuda has been head of the new Chair of Interface Research and Catalysis at the Department of Chemistry and Pharmacy since February 2019. However, Libuda, who is originally from Bochum, is not new to FAU as he has been working at the University for 13 years already. There's a good reason why he turned down offers of appointments at Freie Universität Berlin and the Federal Institute for Materials Research and Testing in Berlin to stay at FAU. 'The culture of cooperation is a very special feature of this university'. Most of his projects are interdisciplinary and, according to Libuda, chemists, physicists, engineers and materials scientists are 'part of a virtually perfect network.'
Making reactions visible Jörg Libuda carries out fundamental research on so-called interface processes. What does this involve? He reaches into a drawer in his desk and places a piece of blue chalk on the table. 'In chemistry, an interface is the outermost layer of atoms in this chalk. It's precisely these atoms that we're interested in. We want to understand the chemical reactions that take place there.' This atomic layer is not visible to the human eye, of course. Researchers use spectroscopic methods that make the reactions on the outermost layer of atoms visible, sometimes under real process conditions and sometimes in extreme vacuums in order to exclude any contamination.
Improving energy storage
The focus of this research is catalysis, which is the acceleration and control of chemical reactions with the aim of increasing how much we understand about processes in environmental technology, the chemicals industry and energy technology. The latter is what interests Libuda most. 'The great challenges posed by the move to alternative forms of energy lie in storing and converting renewable energy', says the researcher. In conjunction with other working groups at FAU, he is therefore investigating chemical concepts for energy storage that unite the conversion and storage of solar energy in one single molecule. 'The molecule absorbs the light from the sun and is wound like the spring in the movement of a watch. This enables the energy to be stored and released again when it's needed', Libuda explains. These results could even lead to the future development of a solar cell capable of storing energy. 'We're not building the solar cell though. We carry out fundamental research and we're more interested in the chemistry behind it.' Libuda's chair is based in the Erlangen Catalysis Resource Centre (ECRC), an interdisciplinary research centre at FAU that he directs together with Prof. Dr. Martin Hartmann. 'Our aim is to set up catalysis research at the ECRC in such a way that we can further increase its visibility.'
FAU – a special place
The fact that Jörg Libuda and his staff are constantly finding exciting new projects is demonstrated by a collaboration they are currently working on with the Helmholtz Institute Erlangen-Nürnberg for Renewable Energy where they are investigating how trains could be run in future using chemically-stored hydrogen on tracks that are not electrified.